Light, Sight and Silence... in my own words
Self Portrait With Granite Face
Gibson River, Ontario - 2006

I love talking to people about my pictures, especially discovering why they may like a specific image more than another. Many times when I show people my portfolio, they will flip right past what I consider to be my "best work", and stop dead on a picture I consider to be "plain". Everyone is moved in different ways by what they see and any image can evoke a reaction. It pleases me to no end when one of my pictures strikes someone as beautiful or reminds them of something they hold dear in their hearts.

I was born Trenton Guy Allyn in Toronto, Ontario in June of 1958, and was adopted by my Mother and Father, Tom and Mary Wilson at the age of two. I lived in Toronto until May of 2001 when my partner Catherine and I moved to our century home in beautiful Alliston, Ontario right in the heart of Simcoe County. In 2005 my half brother Gary Allyn found me and wrote a letter wondering if I would like to meet him and his wife Joan. Since that time I have been blessed with meeting the family of my birth Mother Noelle including my other half brothers Alistair and Norman and their families, and discovered how wonderful all of them are. God truly is great for having brought all these very special people into my life and accepting me as one of their own.
I am not a photographer by profession or training, but I have a keen love and appreciation of the unique landscape found in Ontario, and I was strongly influenced as a child by the works of the Group of Seven and their contemporaries especially the works of Tom Thompson, Lawren Harris, J.E.H MacDonald, A.Y. Jackson and Franklin Carmichael.

Art has always held a fascination in my life, and I can clearly trace my interest in art to a school field trip to the McMichael gallery when I was no more than ten years old. We had been learning about the Group of Seven in school and when we were in the gallery I remember our teacher telling us to look very closely at Tom Thompson's field sketches (small wooden panels less than a foot square), then step away and look again. On close examination these small oil sketches were a confusion of paint and colour, coarsely and rapidly brushed onto the panels. However, upon stepping back blotches became pine boughs, dots became water highlights sparkling in sunlight, smears became granite rocks peeking out from under snow! Clearly I could hear the wind through the trees, feel the sun on my face or the cold of the shadows cast by birch trees in winter light. For the first time the stunning beauty of the Canadian landscape was obvious to me. I was hooked right then and there and I wanted nothing more than to capture those feelings and have others feel the way I did at that moment while gazing at a piece of canvas or a wooden panel. During my high school years I would get 50 & 55% in math or science and at the same time a 99% in art. It was pretty obvious where my interests lay.

Water, Reeds, Shadows and Reflections
Six Mile Lake, Ontario - 2006
Teachers can and do make a huge difference in a young persons life, and in my life I had a rare gift in the form of Mr. Samotowka. He was my art teacher throughout high school and was generally considered by most students (and perhaps a few staff) as eccentric and off the wall. But he brought art and art history to life for all who chose to look and listen... thankfully I was one that did. He had thousands of slides created over his many years as an art teacher depicting paintings, sculptures, architecture, prehistoric cave paintings, earth works and photographs which he used in his art history courses. More importantly than the slides themselves, he had a story to go along with each and every one of those slides about the artist, the period in art history, historic events of the time, the meaning of the work itself and quite often the hidden meaning of what we were looking at.

I loved those stories and I still remember and re-tell many of them to this day. It was those stories and Mr. Samotowka's animated way of telling them that brought art to life and clearly showed me the significance of art in human history and in my own life. It is thanks to this special man's influence that I have always looked at the world with the curious eyes of an artist and endeavoured to make artistic creation part of who I am.
Composition of Lillies and Reeds
Loon Lake, Ontario - 2006

My introduction to black & white photography came during a photography course I took at the Ontario College of Art (OCA) in 1977. I had never realized how beautiful black & white images could be and the control one had over these images in the darkroom was fascinating. When I left OCA it became very difficult for me to maintain an interest in black & white photography and most of my photographic work was done in colour. But with no facilities to develop & control the images, a keen interest quickly waned into a casual interest. I would often take my old Minolta 35mm with me and photograph things I found interesting, but photography as a form of artistic expression was not a significant part of my life for many years. Much water has passed under the proverbial bridge since that time, two marriages, two wonderful daughters, several careers, immense changes to my life and an untold number of miles driven past some of the most glorious landscapes in all of Canada; and every-time thinking to myself "I wish I had a camera with me".
My interest in black and white photography was renewed by digital technology. I had been experimenting with taking film images, scanning them at high resolution into a digital file, manipulating them in Photoshop and printing them on an ink jet printer. I was pleased with the results and found them interesting, but I could see serious limitations in what I was doing and the images lost a good deal of their clarity and impact in that process. Then in 2005 I bought a Hewlett Packard point and shoot digital camera and photo printer and was completely blown away by both the capabilities and the results. The majority of images on my website have been taken since that time in digital format and the photographs I sell and show are printed in my studio. Everywhere I travel I have a camera and tripod with me and will often stop at the side of the road to scout or shoot an image. I am a great admirer of the photographic works and philosophy of Ansel Adams. Similar to Ansel Adams, I believe strongly in "Straight photography" and "The simple dignity of the glossy print"; I avoid textured papers and limit changes to the images I take to dodging, burning and tonal adjustments. The compositions you see in my images are exactly as shot and not cropped or adjusted in any way. I love the process of visualizing and composing a scene into what the final image will be with my camera, and I love to explore the Canadian landscape in the same way as members of the Group of Seven did many years ago.
A photographer is always a photographer, and I look at everything as a potential picture. There was a time when I had a keen interest in images of urban decay and there are a number of photographers who shoot these types of images that I greatly admire including Christine Mack (I have the honour of owning three original works by her), Milo Pailliotet and Ales Waksmundsky. Their images are opposite to mine in many respects but what each of them say with their images is essential for human kind to pay attention to. The impact of human beings on our planet is often negative and the scientific evidence of this impact is accumulating, we are rapidly coming to the "age of concequence". I strongly feel everyone should see former Vice President Al Gore's presentation of AN INCONVENIENT TRUTH, this film is an eye opener to say the least. Please visit the "Take Action" section of the website and specifically the What you can do area. As monsterous a problem such as global climate change may seem, there is a huge contribution you can personally make to slow and ultimately stop our negative impact on this planet.

Daily I think of how my photography can contribute to people's realization that our planet is fragile and we need to treat it as such. Today in my work I am focused on landscape and the beauty of God's world, which I feel is an important reminder to what we have and how delicate that world truly is. Native people lived on this land for thousands of years taking only what they needed, treating their environment with respect and dignity. In return the earth nurtured and provided for them. There is an essential lesson to be learned from the Native people of this land relative to the planet we live on, but we need to learn how to listen. When I stand on a glacier scarred granite outcrop breathing pure air filled with the scent of pine, I can't image what it would mean to loose that and I rejoice in the challenge of capturing the emotion of light, sight and silence that is the raw essence of Canada.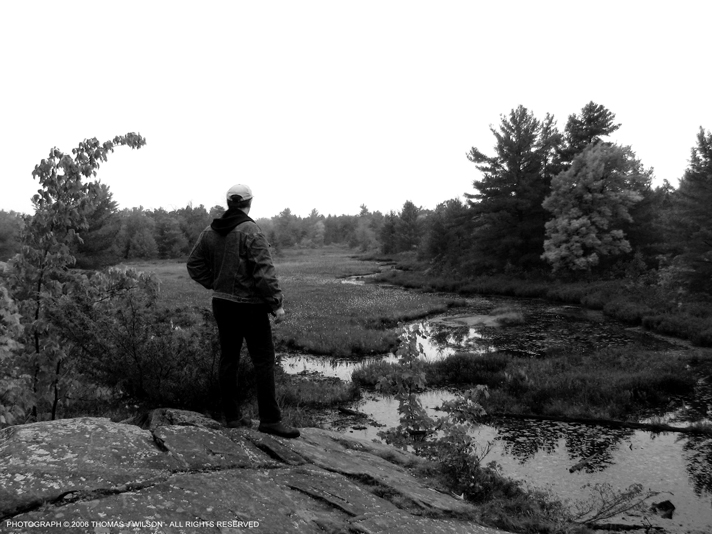 Self Portrait on the Living Trail
Six Mile Provincial Park, Ontario - 2006